5th United States Colored Troops Company
G American Civil War Reenacting Unit


MANUAL OF ARMS
Each of these commands is normally executed in a series of discrete motions rather as one continuous action. "Shoulder Arms" is the basic
position from which all commands are given. After performing each of the commands, the officer will return the company to "shoulder arms"
prior to executing the next command. Each command is given in two parts, the first part is preparatory to give you a second to figure out
what to do, the action is taken on the second part.
Army – An army is the largest field force unit of military organization. The Union armies were commanded by a major general. A
army average around 3 Corp or some 108000 men.

Most frequent 3 corps per army.
Corps – A corps was commanded by a brigadier general or a major general for the Union. A corps was composed of 2 or more
divisions. Averaging around 36000 men.

Most frequent 3 divisions per corp.
Division – A division was the second largest unit making up an army. For the Union, a division was commanded by a brigadier
general or a major general. A Division consisting of some 12000 men or around 3 - 4 Brigades.

Most frequent 3 brigades per
division.
Brigade – A brigade was commanded by a brigadier general or maybe a senior colonel consisting of some 4000 men. A brigade
was divided into regiments, usually two to six regiments to a brigade.

Most frequent 4 regiments per brigade.
Regiment – A regiment was commanded by a colonel and usually consisting of some 1000 men. The regiment was probably the
army organization unit that a soldier felt like he most belonged to. A regiment was made up of men from the same area of a state,
mainly because they were raised by the various state governments. At least during the early part of the Civil War, a regiment would
have men who were friends or neighbors back home, or were relatives. Typically, a regiment was made up of 10 companies, with
each company having 100 men.
Company – A company was commanded by a captain. With perfect army organization and strength, a company had 100 men. But
because of disease and other causes (such as soldiers being killed in battle!), by 1862 a company might only have 30 to 50
soldiers. Companies were officially designated by letters or numbers, but often a company had an unofficial designation, often a
nickname.
Theoretically, company strength was 100 men; regiment, 1,000 men; brigade, 4,000 men; and division, 12,000 men.
Order of Rank
General, Lieutenant General, Major General, Brigadier General, Colonel, Lieutenant Colonel, Major, Captain,
First Lieutenant, Second Lieutenant, Sergeant, Corporal and Private
The basic unit is the company, commanded by a captain
100 men = 2 platoons = 4 sections = 8 squads
Organization of the Union Army in the Civil War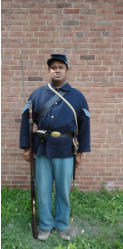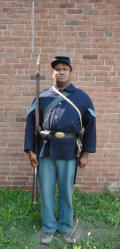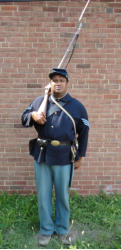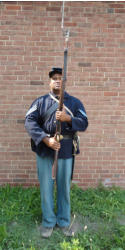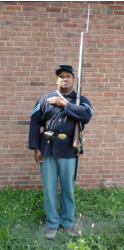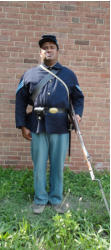 Right Shoulder Shift...Arms
Quick over view of some common MANUAL OF ARMS commands
,
ATTENTION - COMPANY, RIGHT SHOULDER SHIFT - ARMS
SUPPORT - ARMS, PRESENT - ARMS, ORDER - ARMS, FIX - BAYONET, UNFIX - BAYONET, SECURE - ARMS
TRAIL - ARMS, ARMS - AT WILL, GROUND - ARMS, INSPECTION OF ARMS, STACK - ARMS,l BREAK RANKS - MARCH, TAKE - ARMS.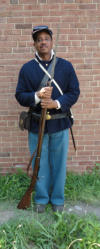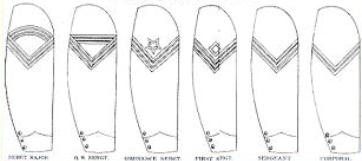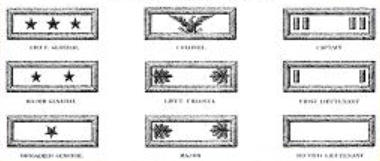 Brigadier General Major Second Lieutenant
Major General Lieut. Colonel First Lieutenant
Lieut General Colonel Captain
Sergeant Major Q Master Sergeant Ordnance Sergeant First Sergeant Sergeant Corporal